Home
Talk

2
100pages on
this wiki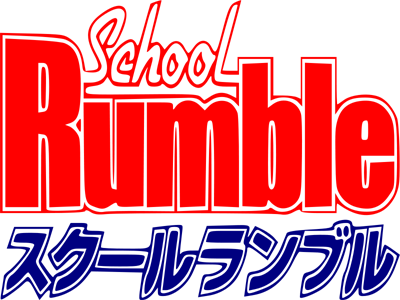 INFORMATION Edit
School Rumble (スクールランブル, Sukūru Ramburu) is a Japanese manga series written and illustrated by Jin Kobayashi and serialized in Weekly Shōnen Magazine.The final chapter was released on July 23, 2008, and the 283 chapters were collected in 22 bound volumes by Kodansha. The sequel, School Rumble Z, is now published in the monthly Shōnen Magazine Special as well, but the first two chapters (as of late October) have been short, one chapter stories.
A 26-episode anime adaptation was broadcast on TV Tokyo between October 2004 and April 2005. In December 2005, an OVA was released, containing two special episodes, and a second season titled School Rumble - Second Term was broadcast in 2006 between April and September.The next OVA, titled School Rumble 3rd Semester and containing two episodes will be bundled with volumes 21 and 22 of the School Rumble manga, the first of which released on July 17, 2008. Sony PlayStation games were produced in July 2005 and July 2006.
The manga is published in English by Del Rey Manga. Unlike other Del Rey releases, the manga uses the original Japanese naming order (family name followed by the given name) to preserve the puns in the manga.
The plot of School Rumble covers the daily lives of students of the fictional Yagami High School and their surroundings. The series is of the romance comedy genre, with scenes in the story being exaggerated for comedic purposes.
The female protagonist is Tenma Tsukamoto, a second year high school girl with no special qualities who has a crush on Oji Karasuma, a stonefaced eccentric. The generally clueless Tenma finds it difficult to confess her love to him. Complications arise with Kenji Harima, the male protagonist and a delinquent, who has developed a crush on Tenma. He too has difficulty confessing to her. The attempts of the two characters to confess their respective loves are running gags seen throughout the series.
As the series progresses, the story changes focus to the relationship that develops between Harima and Tenma's close friend, Eri Sawachika, which results from various embarrassing situations involving Eri and Harima. Harima also develops a relationship with Tenma's younger sister Yakumo Tsukamoto, who begins to assist Harima with the development and drawing of his manga.
As the story progresses, Harima gets himself into romantic situations with Tenma, the relationship between Tenma and Karasuma progresses, and Eri's and Yakumo's bonds with Harima grow stronger.
Help Build the Wiki
Edit
Help out with the character profiles
Latest activity
Edit