Koriyama
Gender
Male
Seiyuu
Hiroki Yasumoto
English
Jim Foronda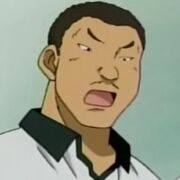 Koriyama is the physical education teacher at Yagami High School, often referred by the class of 2-C as "Goriyama" (literally gorilla-mountain) due to his gorilla-like physique. His methods are very strict and mean, and he makes it known to every student of Yagami High School (usually Class 2-C) how he thinks a responsible student should behave. Failure to comply with his ideals will result with some sort of disciplinary punishment. His tyrannical personality is very similar to most PE teachers in both Eastern and Western school-related media. His name is actually Japanese for "ice mountain", indicating his coldhearted, strict nature.
Apperance
Edit
An Ape of a Man who's always wearing the same black collared white shirt with black pants.
Ad blocker interference detected!
Wikia is a free-to-use site that makes money from advertising. We have a modified experience for viewers using ad blockers

Wikia is not accessible if you've made further modifications. Remove the custom ad blocker rule(s) and the page will load as expected.